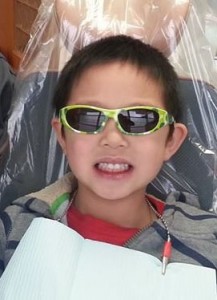 We believe that good oral health starts at an early age and want to help instill good brushing and flossing habits, healthy eating habits and positive experiences during regular dental visits.
The Canadian Dental Association recommends that your child be taken for their first dental visit six months after the eruption of their first tooth or by age one.  During this first visit, with North Delta Dentist Dr. Calvin Tham and his dental team, time will be spent on helping your child familiarize themselves with the surroundings of a dental office and making the visit lots of fun.  Time will be spent with parents on good oral care, use of fluoridated toothpaste and healthy diets.  These are all factors in helping prevent tooth decay.  Small problems can also be detected early to prevent them from becoming bigger problems later on.
Being a father of two young children himself, North Delta Dentist Dr. Calvin Tham takes great pride in providing the best dental care as possible for all of his young patients.
To schedule your child for a dental visit, contact a member of your North Delta Dentist dental team.