Your North Delta Dental Team
Visit the North Delta Dental Office to meet your team of dental professionals including
registered dental hygienists,
certified dental assistants,
dental treatment coordinators and dental receptionists.
Many of our patients walk or drive right over from Surrey, South Surrey, and Cloverdale, while others live in Vancouver and make the 25-minute drive out to see us. We consider it a compliment that our patients are willing to come this far!
"I work in Surrey but live in Vancouver, so Dr. Tham's office is the perfect fit! His dental team make every visit so easy and quick – I just pop in with my young daughter before work!" – Alanna Schulz, Vancouver.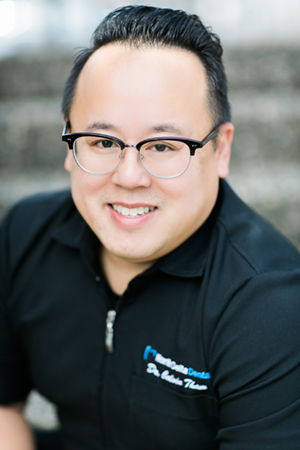 Calvin
Dentist and Owner
With close to twenty years in the dental industry, Dr. Tham is now heading into the prime of his
career! That awkward-looking and geeky UBC grad has now matured into the well-spoken,
handsome, and jovial (but still geeky) dentist that he is today. Calvin takes great pride in
making sure every patient at North Delta Dental has a friendly and amazing experience each
time they walk through our doors. He has spent countless hours enhancing his skills and
keeping up-to-date in the dental industry through the many continuing education programs he
attends annually.
Calvin is a huge (yet disenchanted) Canucks fan, runs a food blog that tracks all the crazy food
that he cooks at home and travels to savour, and is also a professionally trained Co-Active
Coach. Recently, Calvin has taken up the martial art of self-defence, Krav Maga in order to
defend himself from all the round kicks and hammer fists thrown his way by his family and
Office Manager.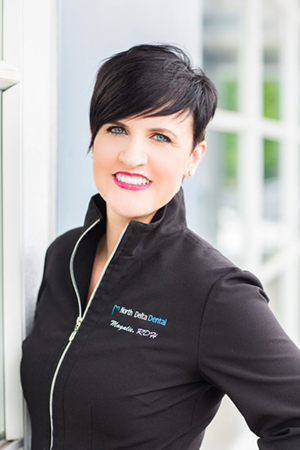 Magalie
Registered Dental Hygienist and Office Manager
The most "well-seasoned" member of the North Delta Dental team has over twenty years of experience in the dental industry under her belt and has now officially asked us to stop counting.  However, you can count on Magalie to always go the extra mile for all of our patients, keeping everyone informed, and ensuring things are done in the most efficient and most proficient manner.
A first degree Black Belt in ATA Taekwondo, Magalie is a proud momma to two lovely Shitzus Nala and Zoe.  When she's not busy throwing flying kicks at Dr. Tham, Magalie enjoys travelling and watching professional sports with her hubby (Unfortunately, she IS a Yankees fan).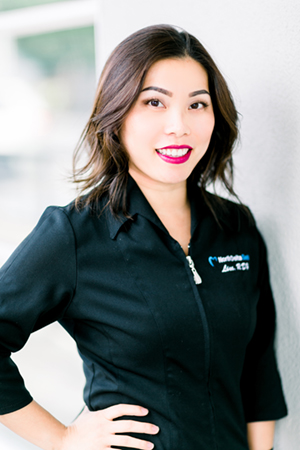 Lisa
Registered Dental Hygienist
Lisa may be the most height advantaged member of the North Delta Dental team, but she is also the spunkiest.  She needs all that energy to keep up with her young family, and for all the time she spends at Oxygen Yoga. On the weekends, she teases Dr. Tham with all the amazing food pics she shares from her mother's amazing home cooking!
With nearly ten years of experience as a dental hygienist and certification in laser-assisted periodontal therapy, Lisa looks forward every work day to putting on her Spelunker's light and boots as she carefully and comfortably removes all of your plaque and tartar build up with her specialized "pressure washer".  The chunkier the better, she says.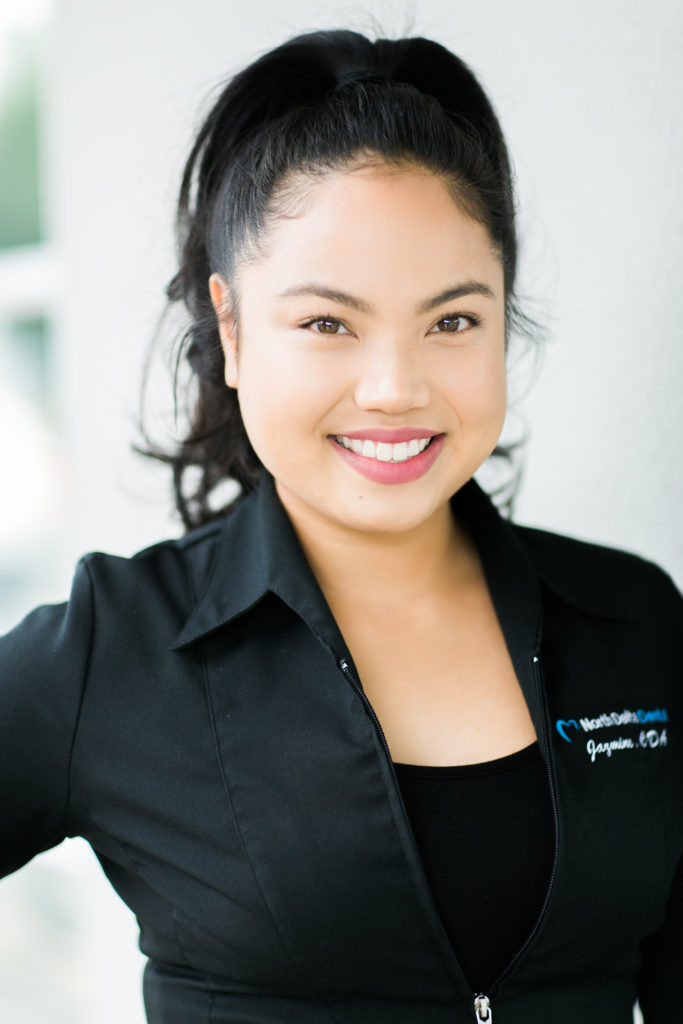 Jazmine
Certified Dental Assistant
Jazmine first came to know us at North Delta Dental a few years ago as a very excited and green practicum student, while she was completing her Certified Dental Assisting program at Douglas College. Today, she loves to hear Dr. Tham tell the story to patients when he introduces her as "the best practicum student he ever had"  Needless to say she graduated with flying colours, worked in a couple other dental offices before arriving back home at North Delta Dental.
When she's not busy welcoming patients and making sure they are comfortable during their dental appointments, Jazmine competes as a professional Oreos-eater. She also enjoys biking along the beach with her pug Benji in the bike basket and taking naps on sunny days with the windows open.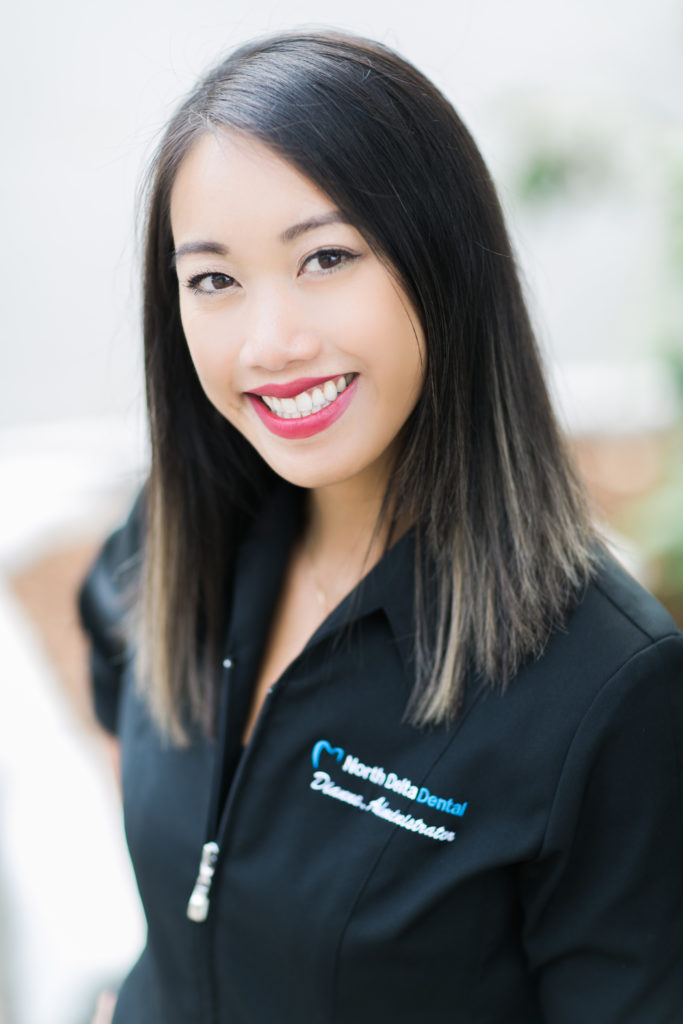 Dianne
Dental Administrator
The welcoming and attentive voice that you hear when you call us at North Delta Dental is one of our newer team members, Dianne.  Dianne joins our team with a wealth of knowledge: nearly ten years of experience in the dental industry and over fifteen years in the hospitality industry.  You can expect Dianne to be able to assist you with all your scheduling needs.
When she's not busy getting to know our patients, you will find her cooking up a storm at home as she prepares to compete in the next season of MasterChef or Chopped.  She also considers herself as quite the Sauce Piquante Connoisseur, as Dianne has over 50 bottles of hot sauces in her collection! You better get on her good side, or she'll get all "Jal-apen-o" face!
Haley
Certified Dental Assistant
Education: Douglas College, Certificate in Certified Dental Assisting.  UBC Faculty of Dentistry, Orthodontics Module.
Experience: over 4 years
Haley's favourite part of working at North Delta Dental is establishing relationships with patients.  Haley enjoys tap dancing, country music and spending time with her family and friends.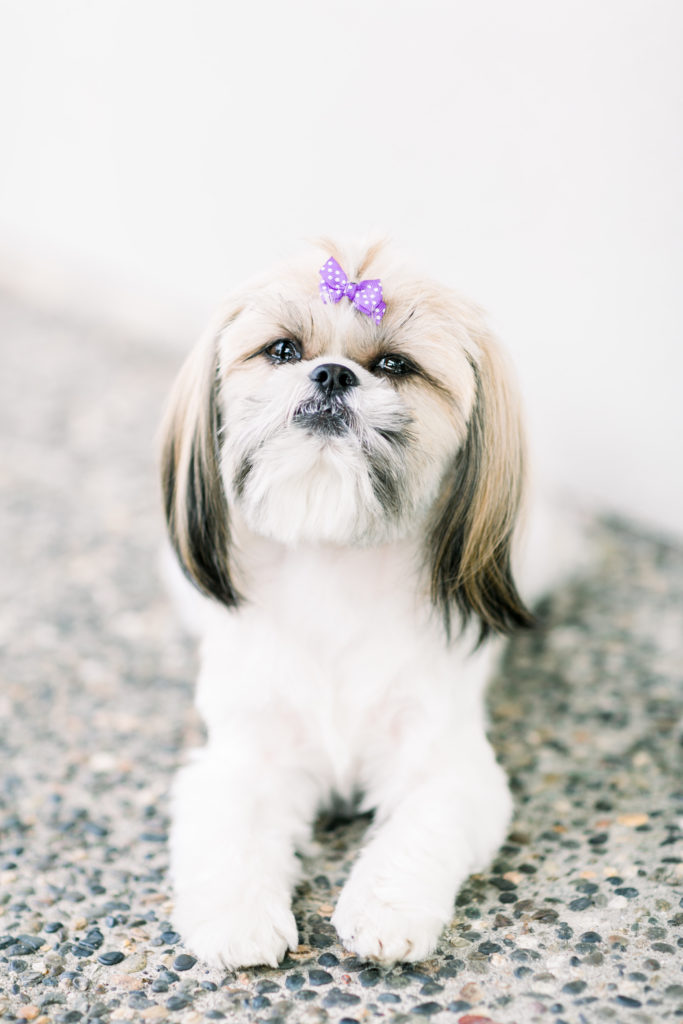 Nala
Official NDD Mascot and Greeter, Therapy Dog
Nala first joined the North Delta Dental team as a wide-eyed 3-month old puppy.  Over the years she has grown into the professional anxiety-relieving therapy dog that she is today.  She takes her job very seriously, as every guest to the North Delta Dental office is welcomed with her cute face and wagging tail.  She takes the most pride in welcoming all of our kid patients.
Outside the office, Nala enjoys taking very short walks with her mom and dad; wrestling with her sister Zoe and squeaking her Cookie monster toy until it gets taken away from her.